King Earl Boogie Band:
Trouble At Mill 1972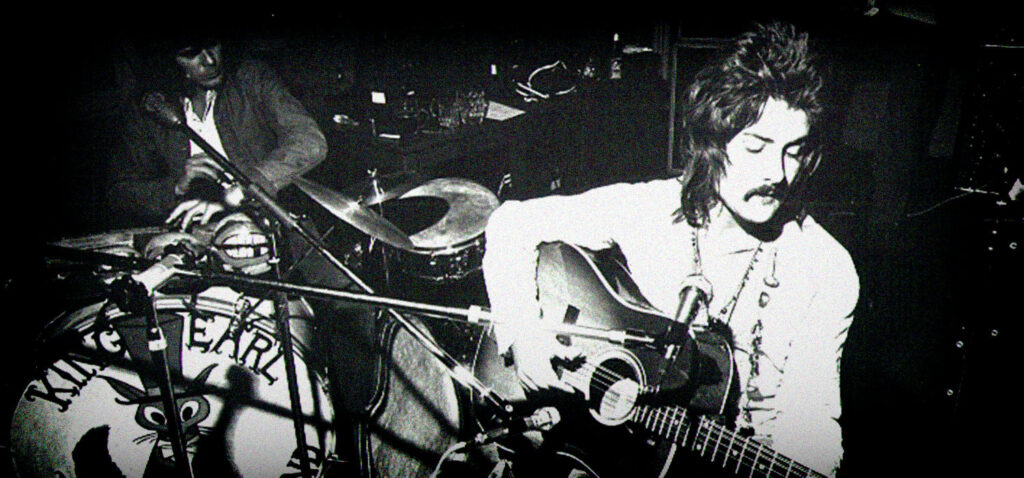 Well I listened to it the other day (1989) for the first time in 15 years and to be quite honest, it just doesn't make it. I don't know what we were trying to achieve, but somewhere along the line we got terribly lost. Apart from 'Plastic Jesus', that is – that really makes it, and in my opinion was the best song the Boogie Band ever recorded and should really have done something, but unfortunately it was blacklisted.
(Paul King)
Pye gave us £3,000 to produce an album. We chose Richard Branson's 'The Manor' at Oxford, to make it. Good atmosphere, but the single, 'Plastic Jesus' was immediately banned by the BBC, which effectively killed the commercial possibilities of the album. 'Plastic Jesus', a song despising the morality of; 'I've got a plastic charm, I can do what I like to anyone'. To the Beeb, it meant 'Plastic Jesus'. You tell me that a jock listens to the discs he plays – I'll tell you b******s.
(Colin Earl)
We spent, I dunno how long rehearsing and we made the record, and then I'm sitting at home waiting to go on the first gig, I think it was supposed to be Barnstable and they said the car would arrive, pick you up. So there I am, waiting all day long and all of a sudden, I get a phone call late in the afternoon, "Oh Joe, we're not going, Dave Lambert's left the band, he's joined The Strawbs! I thought f**k me, here we go! So that was the end of that, sort of, brief experience".
(Joe Rush)
---
AllMusic Review by Dave Thompson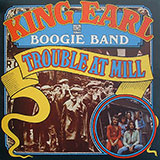 Less than a year after delivering his superlative Been in the Pen Too Long debut album, Paul King was back at the head of the King Earl Boogie Band and armed with a second clutch of songs that is as much a direct follow-up to the earlier set as it is the birth of what should have been a far more successful band than it actually became.
That the King Earl Boogie Band were ultimately scuppered by the failure of the surefire Christmas hit "Plastic Jesus" is a matter of record; it is indeed an indictment of the prevailing super-morality of the era that so lighthearted a poke at junk-store piety could "offend" anyone at all, least of all the program controllers of the BBC.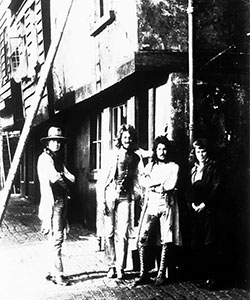 Today, it wouldn't merit a second glance. But, while "Plastic Jesus" inevitably dominates Trouble at Mill, the remainder of the album has a warm, folky bluegrass feel that is just as captivating. The neo-Cockney "Bovver Blues" boogie, one of four songs composed by guitarist Dave Lambert (soon to become such a force within the Strawbs), has a charm that completely predicts such mid-'90s excursions as Blur's "Parklife," while "Keep Your Hands off My Woman" is the sound of Slade if they were forced to dress up as Steeleye Span.
But the other must-hear highlight is the beautiful, near-a cappella version of Ewan MacColl's "Go Down Your Murderers" that wraps up the album — and, sadly, the band's career — with haunted finality.
---
More Reviews
---
A Fan's Thoughts
Paul said in later years that the band got themselves "terribly lost" when recording 'Trouble At Mill', and by that, I think he meant that they set out to record a good-time blues band record. What they did end up with was a more folky offering than was originally intended but despite that, or to be more accurate, because of that, they ended up with a fine album. 
Of course, Dave Cousins from the Strawbs produced 'Mill' and his influences undoubtedly came into play, and I would say, he helped showcase talents that perhaps, even some band members thought they never had.
Sadly, the BBC did their bit and effectively banned, the single, 'Plastic Jesus' for reasons best known to themselves?  Did they ban the mighty Levellers version in 1995? Or were the Levellers just banned full stop?  No, it's a good album, one I still listen to and enjoy to this day!