Been In The Pen Too Long 1972
This was to get away from the Mungo fun band tag – show what I could really do but at the same time, include a couple of jug band numbers to verify my contribution to the original sound of Mungo Jerry. That might have been a mistake but it did give the album a lot of light and shade and it was a joy to work with some different musicians who were enthusiastic about my material. The album received good reviews, and my favourite tracks on it were, 'Jean Harlow' and 'Sugarcane'.
(Paul King)
AllMusic Review by Dave Thompson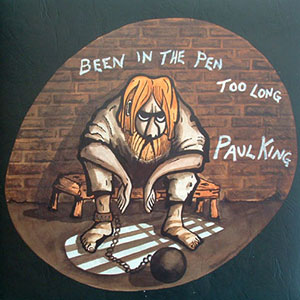 Recorded shortly before Paul King broke away from Mungo Jerry, the jug band superstars he formed in 1970, Been in the Pen Too Long was the singer/songwriter's attempt to prove there was more to his life than washboards, kazoos, and "In the Summertime" sound-alikes — which, of course, there was, although it was sometimes hard to believe it.
Rounding up songs that — he was now forced to admit — had no place alongside the rest of that band's repertoire, it represented a more or less complete break from the Mungo Jerry jangle, with the opening "Grey-Eyed Athena," in particular, lining King closer to the then-barely known likes of Roy Harper and David Bowie, as they, too, plonked and strummed their way round the acoustic singer/songwriter circuit. Yet this beautiful ballad, awash with classical imagery and swept by acoustic guitar, is simply one of a multitude of faces on show.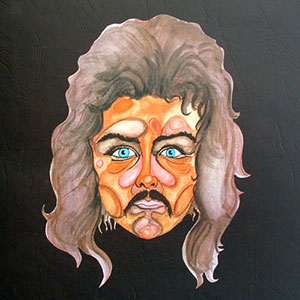 The near-anthemic "Sugarcane" is as simplistic and unaffected as "Athena" is, if you wish, a mite pretentious, a love song that soars so triumphantly above its moon-in-June lyrics that they themselves become pure poetry. No sooner is it over, though, than it's time for "Three Dog Night," a ribald account of a three-girls-and-a-guy bedroom romp set to lewd violin and a puffing, panting rhythm that leaves even less to the imagination than the narrative.
Later, the almost Kinks-themed "Clockwork Machine," a helter-shelter indictment of the working week, is set to the autocratic rhythm of an alarm clock, while a pair of good-time Leadbelly covers, "Jean Harlow" and "Whoa Buck," leave you breathless whether you get up to dance or not. The first half of the album is strongest — across side two of the original vinyl, neither "Candy Man" nor "I've Changed My Face" offer much that side one didn't do better, while the surreal "One Legged Man in a Goldfish Bowl" is little more than an exercise in Dylan-ish imagery, pinned to a succession of musical ideas and sequences that really deserved better.
Yet this falling off barely dents the album's status in the slightest — six of the nine tracks are nothing short of brilliant, and the remainder suffers only by comparison.
---
More Reviews
If you can imagine Marc Bolan joining Mungo Jerry and Dave Swarbrick dropping in on their first recording session, then you'll have a pretty good idea of what to expect when you buy your copy of 'Been In The Pen Too Long'. 
Now that's in no way a put down of Paul King but a compliment! This album is without pretensions and plenty of good-time chug-along music - son of Mungo Jerry style. 
It goes to show just how much King contributed to the Mungo Jerry sound anyway. 
A great first solo album from King and definitely one to listen to, buy and then place on your record shelves.
This solo album by the ex-Mungo Jerry member was recorded before he left the group in March. 
Judging these songs, he would stand a fair chance as a solo artist - but he obviously hasn't that in mind as he recently formed a new group with Colin Earl (also from Mungo). 
King wrote everything except two Leadbelly songs ('Jean Harlow' and 'Whoa Buck', his new single). 
Johnny Van Derrick's violin stands out on several tracks, often giving a ragtime feel. 
One shock is the obvious Mungo sound on 'Candy Man' complete with banjo and kazoo, not to mention the 'grunts and groans' on '3 Dog Night'. But despite this, it's a fine album.
Music Press, 1972.
Country fiddles lead in ; and a general hoe-down atmosphere then pervades. A lively lead track from the 'Been In The Pen Too Long' album.
Nice country stuff. It reminds me of just sitting drinking away in a nice happy-go-lucky atmosphere. It's obviously American because of the word 'goddam' and I quite like it. It's a bit predictable in the bass line. I haven't a clue who it is. I like the fiddle.